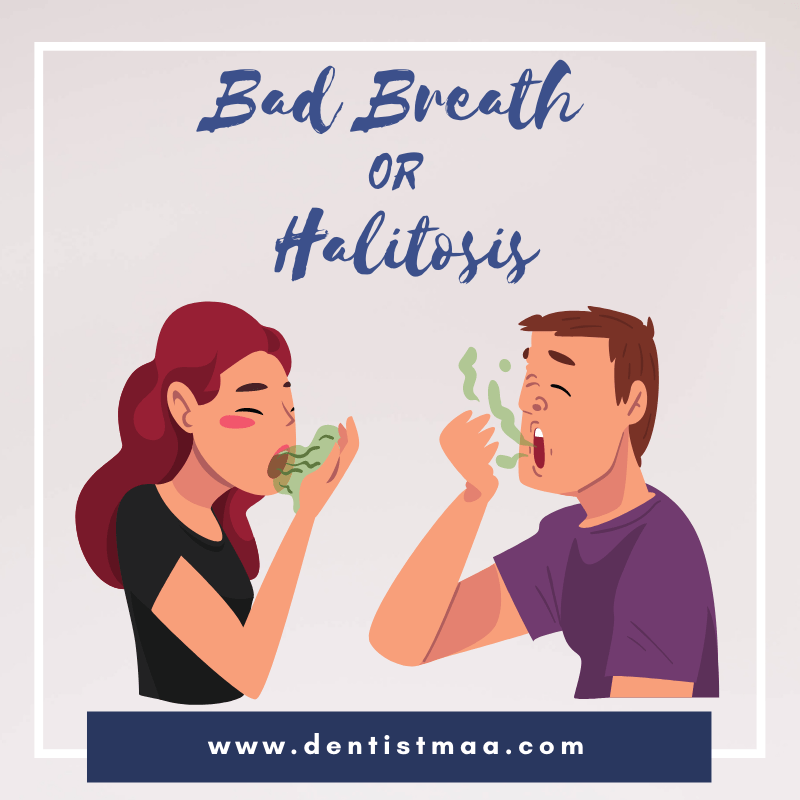 According to ADA (American Dental Association) 50% of the adult population has had bad breath at least once in their lifetime.
Bad breath also know as Halitosis or fetid odor is one of the major problems faced by general population which can be solved with a few remedies or a proper clinical examination. Bad breath can be embracing especially when you are on a date or a business meeting and can even cause anxiety. There are a number of items available in the market from mouthwashes to chewing gums and mouth freshers which can help removing the bad breath but only temporarily.
The solution to stop bad breath in most of the people is to find the cause and treat it.
What causes Bad Breath?
Halitosis can be either for a small period of time, like after having food like garlic or onion, or chronic, that is always present no matter what. There are a number of contributing factors to halitosis:
Food
Food is one of the major contributing factors to bad breath. Especially in countries like India, where the food is rich in flavors and spices, it might be the reasons for bad breath after meals, especially when you do not brush or rinse.
Eating certain foods like onions and garlic are the major contributors to bad breath. Even after brushing or even eating mouth fresheners the odor will still be there. The reason being, the breakdown of the food starts in the mouth, going through the digestive system it then enters the blood stream and then the lungs, and the air we exhale will have that odor. When the food will be digested completely the odor will eventually go.
Beverages
Drinking beverages which have a strong odor such as alcohol, or even tea and coffee can contribute to bad breath.
Smoking or Chewing Tobacco
Smoking itself leads to a bad smell from the smokers mouth. Chewing of other tobacco products also causes halitosis. Other than bad breath any form of tobacco is also injurious to oral health as well as overall health, and should be avoided.
Poor Oral Hygiene
One of the major cases of bad breath is poor oral hygiene. If you do not brush and floss your teeth the food particles will accumulate in your mouth and cause a bad smell. Also, a layer of plaque will start to form over the surface of your teeth. This layer will further accumulate bacteria, and eventually become hard forming calculus, which will lead to diseases of the gums and finally periodontitis. Pockets will be formed between your gums and teeth which will further accumulate more plaque and hence bacteria. This will lead to bad smell, infection and even mobility of teeth.
The tongue is another source where the bacteria can accumulate causing bad breath. Sometimes while brushing we miss to clean the tongue especially in children, which is again one of the major reasons of bad breath.
Dentures
Dentures if not cleaned everyday can accumulate the food, which will accumulate the bacteria causing halitosis. So, the dentures should be cleaned after having food, and removed during the night before sleeping.
Dry Mouth
Xerostomia, i.e. dry mouth can be caused due to certain diseases (salivary gland diseases) or sometimes even mouth breathing. Saliva is a natural cleanser, and it cleanses away the food particles from the mouth, avoiding bad breath. But, if the saliva is less, the mouth will be dry and the particles would accumulate, causing bad breath. Halitosis is also common in people who sleep with their mouth open. Dry mouth can also cause decayed tooth.
Decayed Teeth
A tooth with a cavity helps in accumulation of food, thus causing halitosis. Also a decayed tooth can have an infection, which again is the reason for the bad breath.
Throat and Sinus Diseases
Sometimes infection in the throat like tonsillitis and sinus infections can lead to bad breath. Post nasal drip is another cause of bad breath sometimes.
Other Diseases
Certain diseases like diabetes, gastroesophageal reflux disease or GERD, constipation, liver or kidney disease are other causes of bad breath, and curing the problem can help in relieving the bad breath.
Medication
Certain medication when break down can cause the release of chemicals which will then lead to halitosis. Some medicines cause dryness in the mouth which contributes to the bad breath due to reduced salivary flow.
So, to identify the cause and treat is the first step in treating halitosis. There are home remedies that can be followed and the problem treated at home itself. But, in some cases there might be a need to visit a dentist or a medical specialist in order to treat the problem.