The firsts are always fun and something that we look up to. So is the first day of school.
The first day of school is a milestone your child will achieve and is important for both you and your child. And this can be achieved well by some simple explanations, demonstrations, some play, some listening and some talking.
Before going out in the real world all alone, the child has been in a very protective environment of his or her family. So, the fear of unknown and the separation anxiety is actual. A child who has never left his/her loved ones for a second will definitely feel insecure when we suddenly tell him/her that you would be staying in a different place, with some different people for few hours every day from now.
So, to help them understand and accept it in a much better way we need to make them understand that this is a change that is good for them, and they will be having fun at the new place.
1. Talk to them about school
Months before your child has to start school, start talking to him or her. Start explaining what is a school and why do we all need to go there. Tell them that it is a place where they can learn, have fun, make friends all at the same time.
Tell them that everyone in the family has been to school and the same way they would be going too.
When we start telling them ahead of time slowly they start preparing their mind that this is something normal and as everyone has done it, same way they will be doing it too.
It sometimes may even create a sense of curiosity.
For e.g. my daughter always wanted to be chef, so to encourage her, I explained it to her that to be a chef she will have to learn to read and write first, as she will have to read the recipes from books and then cook. So, that is something that pushed her to go to school and though she had separation anxiety she made herself strong and went to school just because she wants to be a chef. And yes eventually in just a few days she started enjoying it.
Also ask your child how he or she feels about going to school. If they have any kind of fear, any doubts you can help them solve it before itself.
2. Visit the school and show your child around
Take your child along when you to visit the school.
This will help the child in getting to know the new place. Some schools allow the child to attend a class or two and get to know the place better before the session starts. If not you can just take your child to explore around and show where the class is, the washroom is, where the play area is, etc. This will help in making the child a little more comfortable and familiar before the actual school starts.
Let the child play in the play ground if that is an option.
3. Meet the teacher
Meet the teacher before the first day and help your child know him or her. This is one of the most important things to do, as your child will have a familiar face when he or she joins for the first day. It will make it a little comfortable and help the child to adjust a little better.
The teacher will give his or her little introduction and will communicate with your child and get to know him or her.
4. Read about the first day of school
There are a lot of wonderful books available which you can read to your child for the first day of school.
– David goes to school by David Shannon
– Going to school by Stephen Cartwright
– First day Jitters by Julia Danneberg
These and many more good books are available that would help your child to understand that it is important for everyone to go to school and also that almost everyone has some fear or the other to go out there for the first time ever.
This will help to calm them a little and let them understand that they would be having fun like the characters in the book and mom and dad would be waiting outside school once they finish.
It will help in reducing their anxiety and fear towards the first day of school.
Read: 25 Popular Nursery Rhymes for Kids with Lyrics
5. Go school shopping together
Everyone loves shopping, and so will your child.
Go shopping for all that you need to get before school for your child. Let the child choose his or her bag, pencil box, lunch box and water bottle.
Show them their new dress and let them try it on before the first day at school to just get the feeling of it.
Let them pack their bags before hand and enjoy for a while.
6. Pretend play school
If your child is into pretend play this is one of the best ways to reduce the anxiety of the child and make them get use to the big change that would be coming up in their life very soon.
You can be the teacher and let the child be the student for the first time. You can enact all the activities one by one. Include the lunch breaks, the play time as well.
This will help your child to imagine how things would be once they go to school in the new environment.
You can also pretend play the routine that would be followed on the first day of school right from getting up to coming back from school or even till the night before sleeping.
The child will understand that it is going to be a system and they would be asked to follow it. This way they will understand things better and will even try to follow the same.
7. Ask your child what they would like to wear on the first day
If their is no specific uniform, then you can ask your child what he or she would like to wear on the first day and even on all the consecutive days. This will start the day on a positive note and the child will feel good about taking the decision for themself.
8. Ask your child what they would like to take for lunch
Let the child decide what he or she would want to take in the lunch box. This will help the child to again take it positively that he could decide for himself or herself. It will let the child stay a little connected to home.
The child will look forward for the lunch break and will try to finish the lunch. This will keep the little tummy full and the body energetic.
You can also hide a little surprise in your child's lunchbox which would again make them happy and think about you.
9. Assure your child that you would be waiting for them right outside
Assure the child that you would be their outside to pick them up on time and stick to it.
Some schools allow the parents to sit with the child for the first few days, if that is possible you can sit with your child initially and gradually reduce the time when you are around.
I use to sit outside my daughter's kindergarten and she use to check every once in a while in the camera. Slowly she started to get involved with the teachers and other kids, and started to forget to check in the camera. That is when I stopped sitting outside and went back. One day finally she told me she could not see me in the camera that day, but she was fine with it. It helped me build her trust slowly and gradually.
10. Make sure your child has slept well the night before the first day
A good night sleep is a must to have a good day. So, make sure your child sleeps on time before the first day of school and is fresh in the morning,
It should become a habit to make the child sleep on time everyday after that as well so that the child stays health, happy, is not irritable at all. Sleep deprivation and the child being hungry are the main causes of irritability in children. Not only in kids, but even in adults, a continuous good night sleep is very important to have a fresh start and a good day.
11.Give along a comforting item
Your child might want to stay connected with you especially in the initial days of school. You can give your child a comforting item which would help them stay connected to you and home.
One of the child's favorite toy, a car or a doll or even a stuffed animal would sometimes do the magic.
For my daughter, I gave her the picture of us. We kept her picture with us and told her whenever we miss each other we can just see the picture and smile. In the beginning she missed us a little more looking at the picture but later it got better and the picture helped.
We even drew hearts of different colors on our hands like the ones in the kissing hand. These too helped us. In the morning she would choose the colors for the three of us and get all excited. It helped us start the day happily.
You can even have your own special good bye just for the two of you.
12. Make the morning of the first day special
If the child goes happy to school, his or her day will be good. Especially when it is the first day, the tummy should be full, the mood should be good, the child should be comfortable.
The best thing to do it cook something that the child loves to eat in the mornings. This will help in making the mornings pleasant. Listen to your child's favorite music before school. Have a little family time and bonding.
Hugs and kisses will add up to it all.
13. Stay strong and supportive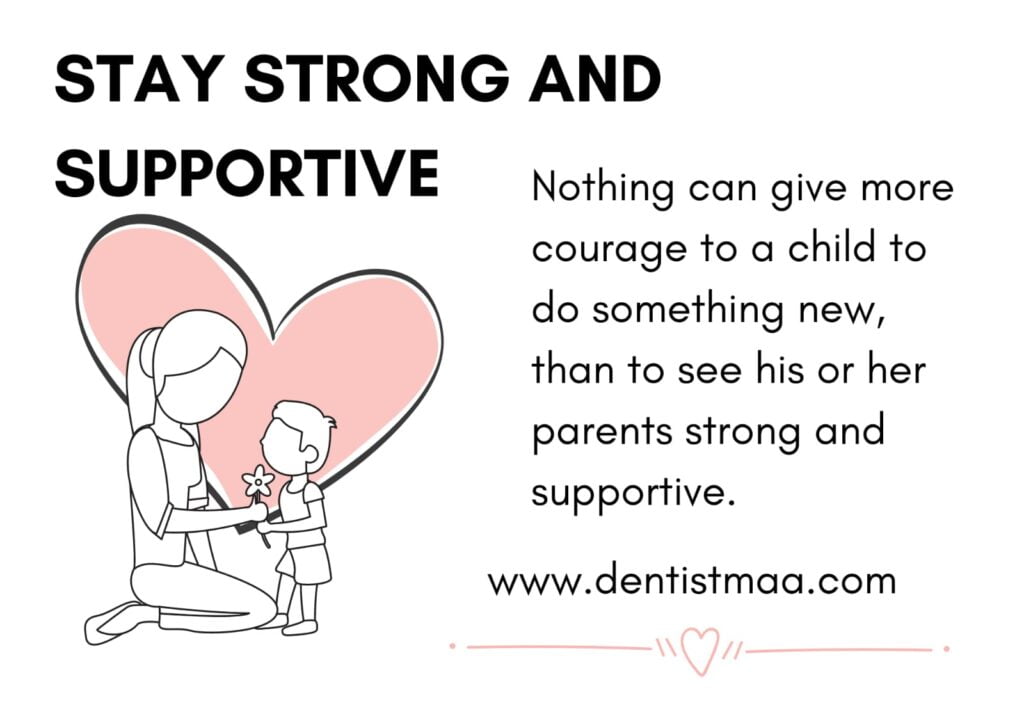 It might be the first day of school for your child, but definitely it is going to be the first day away from your child in a different environment for you too as a parent. It can be a little hard on you as well to leave your child with strangers for those few hours. But you will have to be strong, and supportive.
Tears in your eyes or worry on your face will make the child think that something about all this is not right. This will make the child more reluctant to go to school and be more worried.
Keep a happy and a strong face when you send your child off to school, you can shed those tears later when they have gone inside for that matter.
School is an important milestone for your child and it is very important to choose the right place and environment. Make your child's first day at school as comfortable as possible.

May be even after you have done all of it right your child still might not be comfortable going. He or she might be angry, throwing tantrums, creating a mess all around. But still it is okay. It might take a few days but your child will be going in there with a smile on the face very soon.

Especially since the past 2 years, when we barely socialized, children really do not understand why they need to go out in the world and be away from the family. So, it is okay, and you and your child will achieve this milestone soon.

Happy Parenting!
This article contains affiliate links which means I might receive a commission if you purchase an item using these links but this does not mean you will have to pay something extra for these.